Truck Fund™ – Supporting transport companies
Truck Fund™, a unique initiative conceived and operated by Realize Corporation, is a new fund that provides business management support to transport companies and dynamizes the transport and logistics industry. By offering transport companies the innovative choice to borrow vehicles instead of purchasing them, this highly philanthropic fund spurs financial improvement through off-balance assets.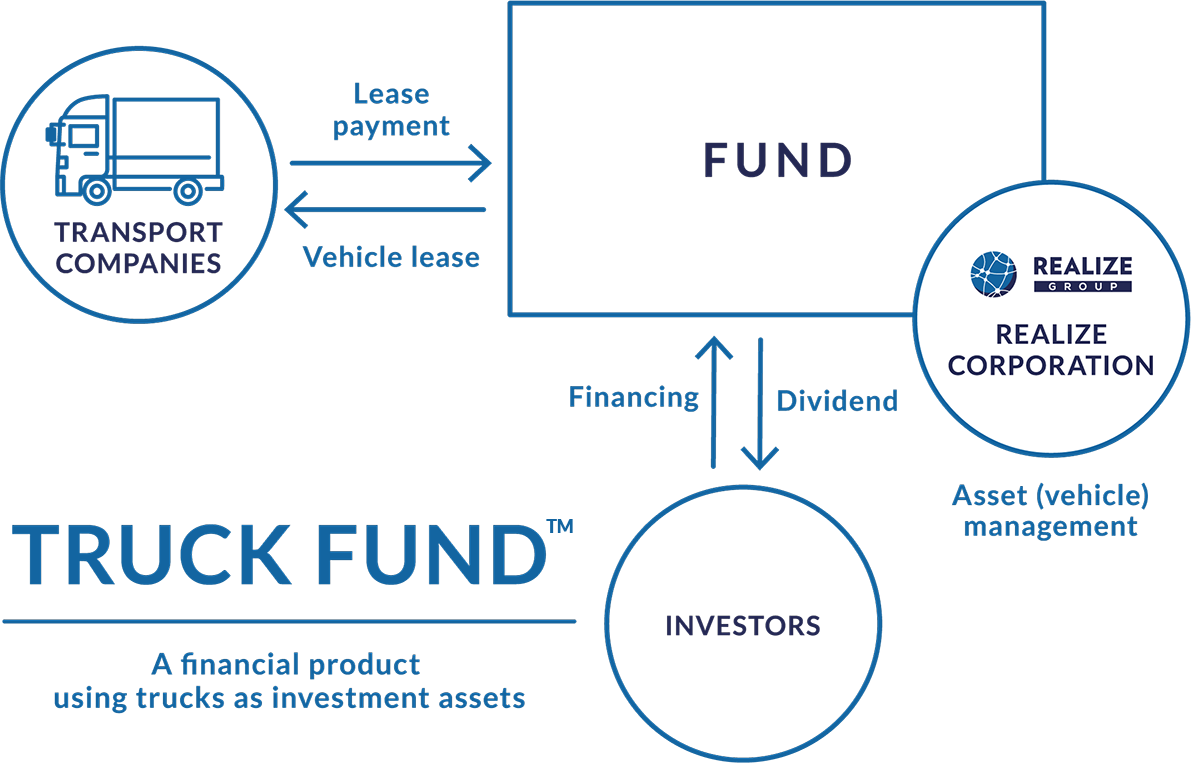 Truck Fund™ uses trucks and trailers as investment assets, with Realize Corporation taking care of the asset management. Vehicle lease fees serve as the capital for dividends to investors.
Several years since its launch, investors recognize Truck Fund™ today as a low-risk, high-yield financial product. Truck Fund™ has also gained popularity as an alternative to business insurance, especially among clients with real estate sales profits, reimbursements of aircraft operating leases or profits from solar power. Available at an increasing number of financial institutions throughout Japan, Truck Fund™ proposes a new style of management to transport companies. We welcome you to take advantage of this innovative fund, which transcends industries and brings joy to many.
*Truck Fund™ is a registered patent
We have recently received reports of fraudulent solicitations for investment using our company name. Please be cautious of such calls as Realize Corporation does not contact potential clients in a non-discriminatory manner.
LINE UP
Tractor Head

Tractor heads are vehicles for towing trailers that are not self-driving. They can leave as soon as the trailer is switched without having to wait for loading or unloading.

Wing Trailer

A high-load trailer vehicle. The trailer, which to refers to the cargo section connected to the tractor head, opens up on both sides on wing trailers.

Trailer with Side Panels

Panels mounted on the side and back end of the cargo bed help prevent cargo from falling and can increase the maximum cargo load.

Container Chassis

Chassis are used to attach marine containers and other containers to the vehicle for transport.

Large Wing

Both sides of box-shaped cargo beds open up on these "winged" vehicles. Reminiscent of birds with their wings open, these vehicles allow easy loading and unloading.

Frozen Van

Vehicles equipped with a freezing device. Temperatures can be controlled to transport perishable or frozen foods.